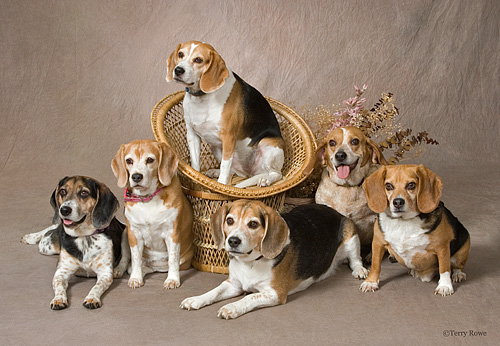 Pictured Above: Daisy, Abby, Reni, Hunter, Belinda, and Trekker.
Hunter
Hunter is our first in the pack and also "top dog". Rich had beagles as a kid so when a friend had a litter of puppies he offered him one, Rich traded a shot gun for Hunter. Hunter has been through MANY obedience classes and competitions. Training him was easy because he is SOOOO food motivated. Once he figured out that there is no food involved when he competes, he decided that wasn't for him. He also tried being a therapy dog, but instead of visiting with folks he was more concerned with cleaning crumbs up off the floor. Right now Hunter is content being the "leader of the pack" and takes that job very seriously. Hunter's "job" is holding down the fort at home.
Daisy
Daisy was found on Petfinder.com at a rescue group from New York State. Her mom died when she was 6 weeks old. She and two other siblings were left to fend for themselves. The rescue group went in and picked them up, one sibling did not make it and the other was adopted by the vet tech that cared for them. Daisy also has attended MANY obedience classes and competitions. She is a registered therapy dog BUT many years ago became afraid to enter strange buildings, especially medical type places. Her self-appointed job at home is to be the guard dog, which she also feels is her job at the store.
Abby
Abby came to live with us when after she had her last litter of puppies. She was 7 years old and spent her whole life outside with a box of woodchips to sleep in. The breeder was done with her and wanted to place her in a good home. Abby was cared for but not socialized and loved, she never learned how to "think" It has been truly amazing to watch her blossom. She is our best "meeter and greeter" at the store and spends most of the day doing that in hopes of getting a treat from a customer.
Reni
Reni came to us from the free ads in the newspaper. She had been living with a family that blended together and there were 9 children. Reni's two legged mom could not care for that many kids and a puppy. We got her when she was 7 months old. She has competed in formal Obedience, Rally, and Agility. She is a registered therapy dog and also a disaster relief dog. Reni just wants to "go" and do things. She has been on television, in magazines and newspapers.
Trekker
Trekker is another attempt at fostering. He is little and absolutely no work, so we kept him too. He is a couch potato at heart. I say in his past life he was a hippy. I can just see him saying, "peace, man!" He typically only has one speed which is slow, but when you call him for dinner he comes running with his big ears flapping and a huge smile on his face.
Jake and Lola
Jake and Lola are our latest additions. Our oldest and our youngest. Jake came to us last summer (2008) when his previous owner passed away. He is 11 years old and a joy to have around. He seems to look at every new day as a celebration. He is a very happy beagle. Lola is our youngest at 6 months. She is our Therapy Dog of the future. Lola is small in stature, but a very confident little dog. She loves to play with the "big guys" and hangs out at the store most days. Jake has become her "Grandpa" and most nights they sleep together.
Belinda
Belinda was our first attempt at fostering for beagle rescue. She wasn't in our house a week and Rich said he thought we should keep her, which is exactly what we did. It took her a long time to learn to walk on all our non-carpeted floors. She was very timid except when it comes to attention. She has no problem butting in between a dog and you to get some extra "lovin." She loved coming to the store to get "free pets" from the customers. Sadly she passed away January 31st, and we miss her every day.
---